Education not Medication!
A 2 hour intensive
with videos and over
13 exotic healing
liquid samplers served!
FIBROID TUMORS, DEPRESSION, CHRONIC FATIGUE, CHRONIC STRESS, ADD, ADHD, AUTISM, HEADACHES, MIGRAINES, PAIN, ACID REFLUX, WEIGHT LOSS, MELTING BELLY FAT, BOOSTING METABOLISM, PROSTATE HEALTH, ECZEMA, LOWERING BLOOD PRESSURE, LOWERING BAD CHOLESTEROL, TYPE 2 DIABETES, GROWING HAIR AND NAILS, NO MORE BLEEDING GUMS, LESSEN MENSTRUAL CRAMPS, ASTHMA/ALLERGIES, LUPUS, SINUS, FIBROMYALGIA, ARTHITIS, SARCOIDOSIS and MUCH MORE! WANT CHEMO or STROKE AFTER CARE!!!!
Let Cee Cee bring Health and Wellness to
your church, office or event!
It's so easy...just give us a call!
800.562.0210
---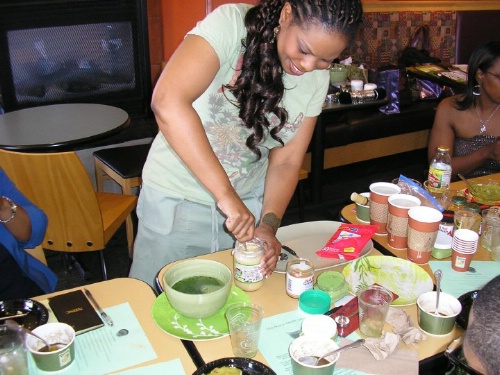 "Most diseases are absolutely curable using healthy foods, juices, waters and teas!
The body can heal itself!"
From jicama to avocado to nettle tea...
come taste the wonders from around the world that heal the body!
---
2 BIG product tables pushed together
hot water or microwave for heating water
paper and pen for each student or attendee
small thing of chicken salad
( just a small cereal bowl's worth of it!)
SEE CONTACT CEE CEE: to email her right away!
---
Cee Cee Michaela is founder of and this is
her official website home for...
Matcha Green Tea/Health/Wellness
---
I do FREE HEALTH CONSULTATIONS by phone
with your health goals and concerns
or call me at: 1.800. 562. 0210
---