GIRLS SITTING PRETTY! TEAMWORK!!!
BIBLE STUDY AND GIRLTALK WITH MS. CEE
THE GIRLS TAKE METICULOUS NOTES
MS. CEE CEE INSTRUCTS SETTING
GIRLS WATCH CLOSELY THE COMPETITION BEGINS!
DARIEL SETS TABLE PERFECTLY!
DANIELLE WALKS GRACEFULLY!
OOPS...NOT QUITE PERFECT! POSING..SHOULDERS BACK!
LEFT FOOT HOOK AND LEAN! MS.CEE CEE AND THE GODZGIRLS!

KNEES TOGETHER! GRACEFUL HANDS LEARNING HOW TO SEW!
PLEASE!


WE DID IT!! SEE OUR BUTTONS! SHERITA IS OUR POP QUIZ WINNER!!!

Cee Cee launches OPERATION READ!!!
---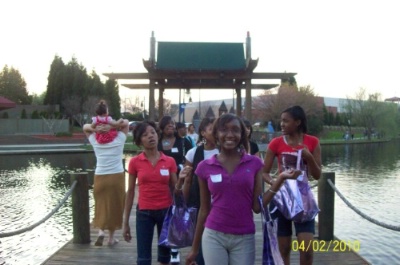 Cee Cee Michaela has mentored
hundreds of girls and young ladies!
She has mentored students at Johnson C. Smith University and visits the school grounds
quite often to share words of wisdom and encourages the students to be all that God created them to be! Some of the students have joined her and volunteer directly with her Godzgirl/Godzgirl Network in serving the community through her Nutrition/Health and Wellness Classes and Workshops to the local community! They provide hands on help with editing educational videos,class set up, cooking and serving healthy meals! In return, Ms. Michaela serves as a big sister/mom away from home and takes time out to show them the beauty of Charlotte, NC while they are here for their four year stay! "I teach them that Charlotte is bigger then the local dance clubs and the free party bus and that this is not the time to lose their dignity!" Charlotte, NC is one of the best cities to live in and has beautiful seasons, landscape, NASCAR,The Billy Graham Library, Latta Plantation as well as the lovely 90 minute River Boat or Yacht Cruises on Lake Norman. "On the weekends, this is what we do...church and cultural events...having all kinds of positive fun while caring for others in the process. SERVE SERVE SERVE OTHERS is what I teach the students and we do just that!"
---
Cee Cee Michaela celebrates ten years of ministry and ten years and nine months of being (AUM)ABSTINENCE until marriage this year! "I really say seven years of ministry, as the first 3 years consisted of traveling in psalmistry and sharing my testimony. But by 2003, and after much in depth study and receiving deep revelation through God's word, I was asked to do sermons and powerful life changing workshops under the anointing! To God be the Glory! I am humbled and honored to be a servant in and for His Kingdom!"
---